12
min read
Top Ten Cannabis Products in Las Vegas
Contributor: Asia Mayfield
Shopping at a Las Vegas dispensary is like being a greedy kid in Santa's workshop. Everything looks delectable. High-THC shatter here, infused edibles over there. Stoners want it all.
Certain products stand out.
Here's a look into the top ten cannabis products in the Las Vegas area
It didn't take long for celebrities to swarm into the Vegas cannabis market. Willie Nelson, Cheech, and the list goes on. Khalifa Kush, created by a partnership between rapper Wiz Khalifa and Reef Dispensaries, is easily at the top of the list. The buds are ridiculously dank, each one emitting a strong smell that toys with your nostrils. The resin practically drips off of the flower.
Khalifa Kush's one-gram pre-roll is fat, with little specks of bud escaping the paper. Cut open the joint and smoke a bowl instead if you want your weed to last longer. If you tear the joint in half, you can smoke half of it like a joint and pour the rest into your pipe or bong.
Now let's talk about the smoke. It pours down your throat and fills your lungs with a gush as you inhale. As the smoke lingers in your lungs, a musky, weedy taste bubbles up over your taste buds. The hybrid nugs produce a buzzy, cerebral high. According to Khalifa himself, the buds hail from a potent OG Kush strain. They smell like ripe lemons left out in a pine forest. The aroma is easy to get used to.
2. Craft Cannabis Bruce Banner E-Cigarette
A vape pen is an indulgence. You can smoke it in public and people will think it's a cigarette vape. If you want to be stoned and active, it's a lot easier to bring a vape pen along than flower.
Craft Cannabis' Bruce Banner e-joint hits the spot because it's potent and affordable. You can often pick up 0.5-grams for $20. You only need a puff or two to get stoned. At least, that's the theory. It's easy to keep sucking on the pen like it's a lollipop.
The vapor is unflavored. Weed aficionados appreciate concentrates because it heightens the taste of the buds. The Bruce Banner vapor tastes like strong, grassy tea. The flavor is gone almost before you notice it.
Stoners looking for a way to smoke that's easier on their lungs often turn to vape oil pens. Most people find the vapor to be less irritating than smoke.
There's no aroma. A sneaky vape hit might go unnoticed in a crowded room. However, that doesn't mean people won't be able to tell that you're stoned. The oil tests at more than 84% THC. It's enough to make anyone's head spin.
3. Flora Vega 1.2-gram pre-roll (two-pack)
Flora Vega is one of the most prolific brands in the city. You can find their strains everywhere you look. Their two-pack pre-rolls are particularly popular. They're sometimes priced as low as $10 for 1.2-grams. They're convenient and easy to smoke. Each 0.6-gram pre-roll is perfectly wrapped. Their small size makes them easy to handle. Tourists enjoy Flora Vega two-pack joints because they're so transportable. Smoke one now and leave one in the hotel room for later.
Flora Vega grows many popular strains. Their version of Primus, a sleepy indica, hits 28% THC. If you're wrinkling your nose at the thought of that much THC, Flora Vega also sells buds in the 15% to 20% range.
The Primus joint feels light. You can tell that the weed is powdery and fluffy. Joints that are too tightly packed are hard to smoke, especially for beginners. If your joint is too flimsy, it'll be limp and awkward to hold. Flora Vega's Primus sits in the sweet medium.
Take a hit of this joint when you're feeling tired and ready for a nap. The potent sedative effect will help you drift into a blissful sleep.
ShowGrow™ Vegas – 21+ Dispensary
4850 S Fort Apache Rd #100,
Las Vegas, NV 89147
(702) 227-0511
https://showgrow.com/
Price: Varies by location
(Product sold at multiple locations)
4. Tyson Ranch Rainbow Cookies
Tyson Ranch recently exploded onto the Vegas market. The brand, sold exclusively at Planet 13, is the brainchild of Mike Tyson. A joke about how these nugs pack a punch would be fitting here but I'll spare you. The Rainbow Cookies strain is perhaps the best of the batch. The buds are gorgeous and smell more appealing than a bouquet of roses. Pastel pinks and velvety purples swirl through the deep green color of the weed.
After the first gulp of smoke slides out of your lungs, a tart, woody taste hovers in the back of the throat. Hold the smoke in your lungs for a few moments and you might be able to detect a sweeter flavor that dances over your taste buds before fading without a trace.
Buying the buds is going to set you back $20. You can save $4 by picking up a pre-roll as well. Combine that with their 20% locals discount and you have a gram of top-shelf weed for less than $15. If you're from out of state, you might be able to take advantage of Planet 13's discounts for veterans and medical card holders.
Planet 13 Las Vegas Dispensary
2548 W Desert Inn Rd,
Las Vegas, NV 89109
 (702) 815-1313
 https://www.planet13lasvegas.com/
Price: 1g pre-roll ($16), 1g ($20), ⅛ (60), ¼ ($110), ½ ($200), 1 oz ($380)
5.Chocolate Cake Bites by Top Hat
These rich, gooey cake bites aren't cheap. Buying a 10-piece package will set you back an easy $50 bucks. However, if you're interested in edibles, it's worth it. Top Hat edibles are hand-crafted by an experienced Vegas pastry chef. Eat one when you feel fancy and want to indulge yourself. Infused cake bites are the new chocolate-dipped strawberries and champagne.
The chocolate cake bites are fudgy and thick, almost like little round brownies. Each one is slathered in creamy frosting and dotted with colorful sprinkles. If it weren't for the piece of candy with "THC" written on it that's wedged into the frosting, you would think these bites were created at an upscale bakery. Biting into one is like taking a slurp from Willy Wonka's chocolate river. An explosion of chocolate flavor fills your mouth. The THC is undetectable until your body starts to feel the effects. The taste is pure, delicious chocolate.
6. MMG 24K Gold Party 3-gram Party Roll
The gigantic 24K party roll screams Vegas. It's luxurious. You know you're wasting weed while you're smoking it, but you don't care. The experience is supposed to be over the top. Your friends will love you if you whip this out at your next party. It might be the biggest joint that you've ever seen. Because it's so thick with weed, the joint is more like a blunt.
It's daunting to smoke. Big, thick plumes of smoke fill your lungs with the first drag. The taste is powerful, overwhelming your senses with a funky diesel flavor. You can detect the same notes in the aroma. 
If you aren't going to smoke the party roll with your crew, it's a good time to invest in a, "doob tube." This is a slim airtight container for your half-smoked joints. You can drop your joint into the, "doob tube," while it's still smoking, and it'll be snuffed out when you close the lid.
NuWu Cannabis Marketplace 
1235 Paiute Cir,
Las Vegas, NV 89106
(702) 844-2707
http://nuwu.vegas/ 
Price: Varies by location
(Product sold at multiple locations)
7. Highly Edible Sweet Sativa Pucks
Las Vegas stoners love gummies and pucks. Every dispensary in town stocks at least one brand. The Highly Edible pucks are sticky and sugary and easy to swallow. You can barely taste the THC.
Edibles are useful because they satisfy the crowd of cannabis consumers who don't want to smoke. You can get mind-bogglingly high without taking a single puff. The pucks are popular with tourists who need a final buzz for their flight home. You can't take a joint into the airport and the effects of anything you smoke before you board the plane will dissipate within a few hours. 
Your long flight will be a lot less stressful if you munch on the candy pucks an hour or so before your flight. You won't get stoned until you're already in the air.
Each colorful puck is covered in a thin layer of sugar. Your dentist won't be pleased if these become your new favorite candy, but it's hard to understand why anyone would want to go back to eating regular, non- THC gummies.
Essence Cannabis Dispensary
2307 S Las Vegas Blvd,
Las Vegas, NV 89104
(702) 978-7591
 https://essencevegas.com/
Price: Varies by location
(Product sold at multiple locations)
8. Shango White Tahoe Cookies x Sweet Lime Crumble
Shango is one of the biggest dispensaries in town. Their product line is diverse. White Tahoe Cookies is one of their superstar strains. It's so good, some stoners chase it throughout the city. Lots of Vegas dispensaries sell Shango's White Tahoe Cookies. The crumble created from the strain is particularly delicious. It routinely tests at more than 67% THC.
For the uninitiated, crumble describes the consistency of the concentrate. Imagine a sticky yellow glob of bread dough. Budder, another popular concentrate sold at Shango, is creamier. The crumble clings to your fingers and your dabbing tool. No interest in dabbing? It's okay; you can add bits of crumble to your regular bowls and joints.
If you smoke a weed and crumble bowl, the crumble will bubble up before quickly melting into a golden goo. Prepare to keep hitting your pipe or bowl, the oil might smoke until it's gone. You don't want to waste it.
The taste is unnoticeable at first. It's not until the smoke is flowing out of your lungs that a spicy, baked apple pie-flavor develops in the back of the throat. The Sweet Lime crumble adds a sweet note that tempers the other flavors.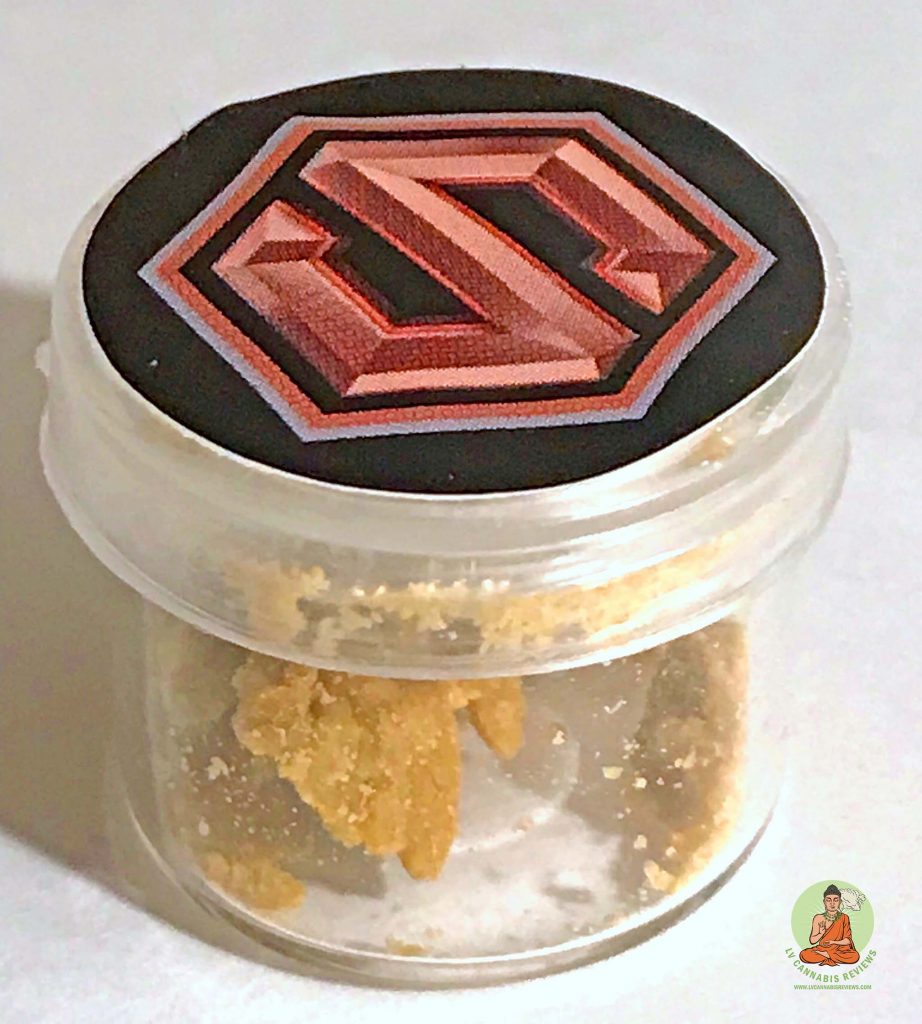 Shango Marijuana Dispensary Las Vegas
4380 Boulder Hwy,
Las Vegas, NV 89121
(702) 444-4824
https://goshango.com/ 
Price: 1g ($49)
9. Deep Roots Harvest Original Cheeba Chews
You can find Cheeba Chews in a ton of different flavors. Yet, none of them are better or more popular than the original. They're almost like little black tootsie rolls. Candy edibles are fun because they're discreet. You can keep a slew of them in your purse or pocket and no one will ever know. There are different THC levels to fit your dosing needs.
Cheeba Chews are dangerously tempting because they're so tiny. It's difficult to be satisfied with just one. You could easily eat the whole package in a couple of bites. The sugary, chocolate taste of the taffy completely obscures the flavor of the THC oil. Even picky eaters will probably like these.
You can't tell how strong Cheeba Chews are by looking at them. The only odor emitted by the candy is a faint whiff of cocoa. If you want to get the effect faster, try chewing more. It sounds gross but think of a cow chewing on its cud. It takes a long time and uses a ton of saliva. The spit helps breaks down the THC-rich taffy. It's like using a tincture or holding a swallow of oil under your tongue.
Oasis Cannabis Dispensary 
1800 Industrial Rd #180,
Las Vegas, NV 89102
(702) 420-2405
https://oasiscannabis.com/
Price: Varies
(Product sold at multiple locations)
Caramel oozes between thick, salty pretzels drizzled with infused chocolate. What could be better? The BaM pretzel bites are the perfect snack. You don't need a beer after a long day at work. Just pop one of these pretzels into your mouth. Each bite is loaded with 10mg THC. They're sold in 3-piece and 10-piece packages.
The salty-sweet flavor is instantly addictive. The congealed caramel and chocolate sludge coat your fingers and trudges down your chin. Eating the pretzel bites on a blazing hot Vegas day is a messy experience.
Edibles produce a distinct high. You feel it deep in your bones. Your thoughts seem to slow down as you slip into a relaxed state of being. Start eating the bites a couple of hours before you want to get high. You won't feel anything until your digestive system breaks down the food and releases the cannabinoids into your bloodstream. Depending on your size, this could take up to two hours. You've forgotten about the delicious taste by the time you feel the bites' power. You might even get hit with a bout of the munchies, prompting you to shove a couple more pieces into your mouth.
Top Notch the Health Center
5630 Stephanie St,
Las Vegas, NV 89122
(702) 418-0420
https://topnotchthc.vegas/
Price: Varies
(Product sold at multiple locations)
What are some of your local top favorite cannabis products on the market today?